You've done it! You've brought a new kitten into your family. Congratulations! After setting up the litter box, scratching post, food and water bowls, and millions of cat toys, it is time to call for her first veterinary exam.
When to schedule your appointment
Once you are sure you will be adopting a kitten it is time to schedule their first exam with a veterinarian. Even if you have not picked up your furry family member yet, it is not too soon to add them as a patient and find an appointment time. The sooner you can bring your kitten to be examined the better. Your veterinarian will make sure they are happy and healthy and give you the guidance to keep them that way. (They will also get lots of snuggles from our staff!)
Preparing for your first appointment

Any time you leave your home with your kitten they should be safely in a pet carrier. Kittens are wiggly and energetic and can easily slip from your hands. Keeping them safely in a carrier is one way to avoid a lost or injured kitten. Kittens (and cats) should also stay in their carriers during car rides and especially when entering a veterinary hospital.To allow your kitten to become comfortable with their carrier, leave it out in the house where they can readily access it. You can even feed them inside their carrier to create a positive association. Taking these steps prior to your first appointment will make getting out of the house with your new furry family member an enjoyable and safe experience.
Make sure to write down questions as you have them to help you remember to ask your veterinarian during their exam. There will be a lot of information to go over and it is easy to have questions slip your mind at the moment.
Find a treat that your new kitten values. Does she flip for her canned food? Will she do anything for a special treat from the pet store? Bringing these high-value treats with you to your appointment can make the experience even better for your kitten
What to bring
Along with your list of questions, and your kitten, there are a few things you should bring with you to your kitten's first exam.
Any previous veterinary records- Did she have a vaccine at the shelter? Was she treated for an illness prior to adoption? These are important pieces of information for your veterinarian to know before starting her exam.
A stool sample- No one said this was a glamorous list. A grape size sample of feces from the litter box is the perfect amount to bring in to the appointment. This sample can be brought in any clean container, a resealable bag works beautifully. The feces should be relatively fresh, from the night before or the morning of your appointment. The sample should not be dried out, but it is totally fine for some litter to come along with it. Your veterinarian will send this sample out to the lab to test for intestinal parasites and should have the results of the test in a day or two.
Any medication your kitten is on- Sometimes rescues send home medications, dewormers, or preventatives with newly adopted kittens.It is important for your veterinarian to know exactly what your kitten is currently taking.
What to expect

Most first-time kitten exams are very similar and you should be able to anticipate what your experience will be like. Once you are checked in and your kitten is in the exam room, a doctor will go over some general questions with you regarding your kitten's history and lifestyle. This will allow the doctor to tailor their treatment plan to you and your kitten. Once these questions are answered your veterinarian will begin a nose-to-tail examination. The doctor will finish their thorough examination and proceed to go over a treatment plan to make sure your kitten stays healthy. This will include a vaccination schedule, sending out that stool sample, and most likely performing a Felv/Fiv blood test. The Felv/ Fiv test will check for Feline leukemia and Feline Immunodeficiency Virus. Most kittens will receive a series of 2-3 Feline Distemper vaccines, 2 Leukemia vaccines, and a Rabies vaccine spread out over a few weeks. Your veterinarian will prescribe a dewormer as well as a month flea and tick preventative like Bravecto. Your kitten should be kept on their preventative year round and life long regardless of being indoor or outdoor.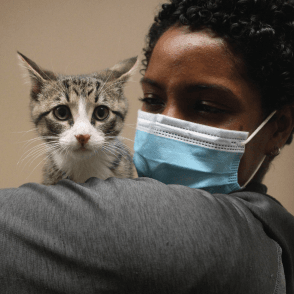 Your kitten will be stolen from the exam room multiple times by team members ready to snuggle her. They most likely have been looking forward to her appointment all day.
Prior to checking out, you will be scheduled for your subsequent exams including their spay or neuter. This surgery will be scheduled for when they are about 6 months old. During their surgery we will place her HomeAgain microchip to make sure she is always able to find her way home.
Call Middlehope Veterinary Hospital today to schedule your kitten's first exam and ask about our comprehensive Kitten Package! Middlehope Veterinary Hospital, where you bring the kittens you love!